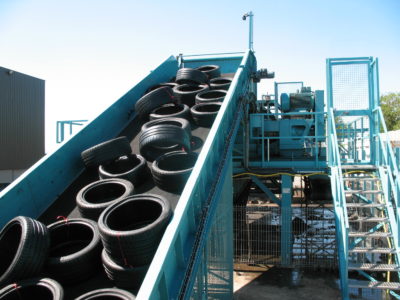 SHREDDING QUALITY
As with other recycling strategies, pyrolysis requires a good feedstock to supply the production lines. Considering PRECIMECA for the scrap tire preparation steps (primary and secondary shredding) guarantees a calibrated and perfectly cut product in order to manage this feed industrially.


A PROMISING WAY
At the crossroads between material and energy recovery, pyrolysis is a thermochemical process which makes it possible to obtain recycled carbon black (rCB) from scrap tires, a pyrolysis oil which can be recovered in the form of fuel and gases which are often reused by the process itself.
There are various technologies on the market, some of which have been developed in emerging countries which do not comply with any regulations in terms of discharges and production conditions. However, in recent years, new industrial players have developed efficient and environmentally friendly processes.